Customer Stories
Good to great: How reverse ETL helps data teams | Census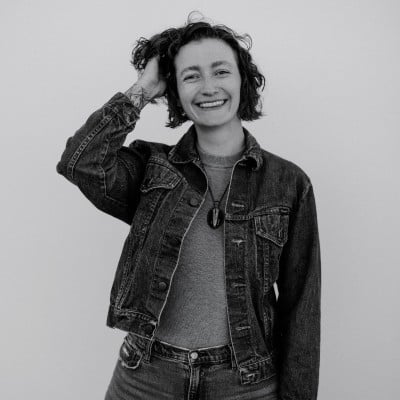 Allie Beazell
October 28, 2021
Allie Beazell is director of developer marketing @ Census. She loves getting to connect with data practitioners about their day-to-day work, helping technical folks communicate their expertise through writing, and bringing people together to learn from each other. Los Angeles Metropolitan Area, California, United States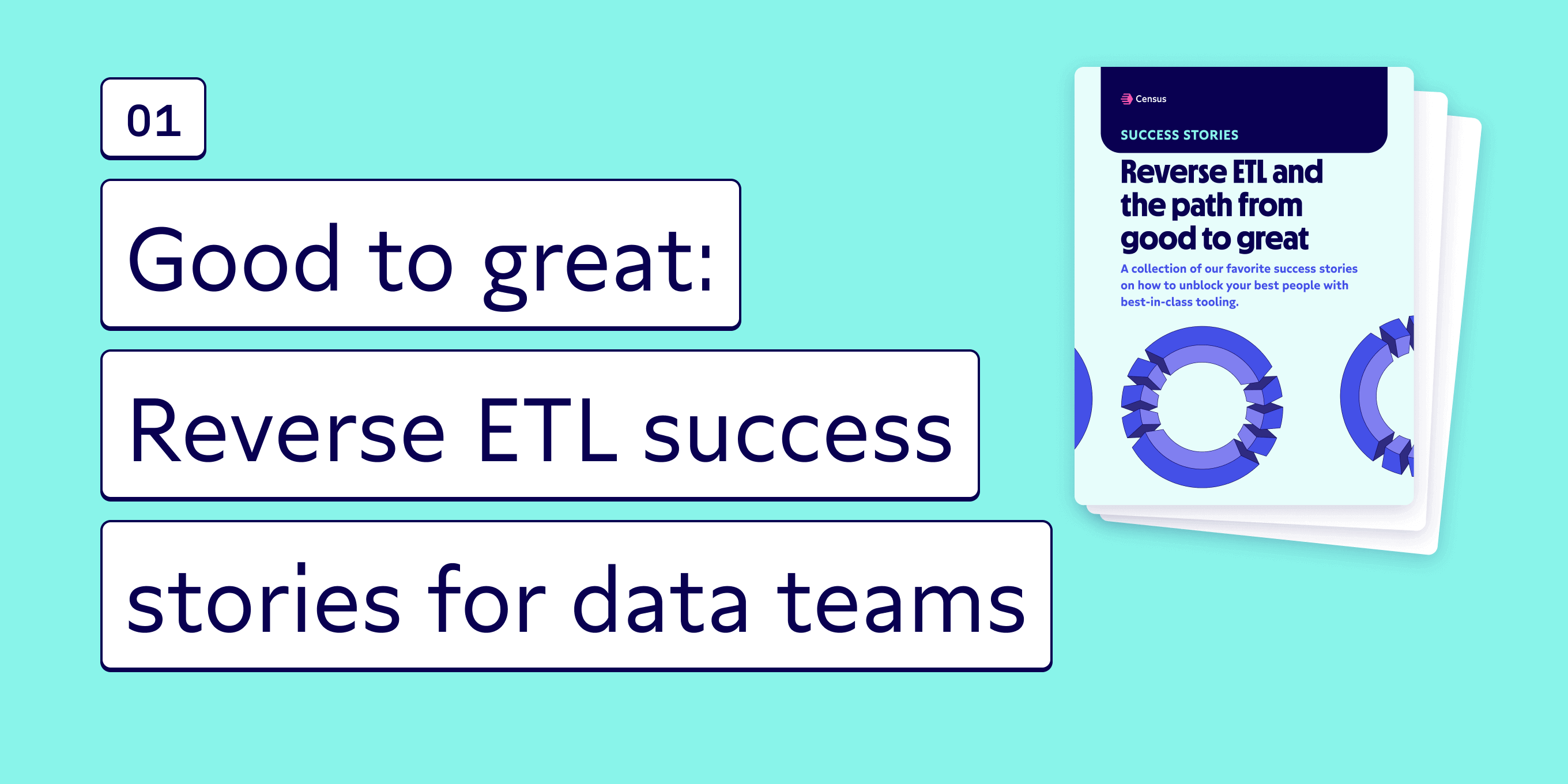 This article is part of our good to great series highlighting some of the amazing things cutting-edge companies have done with reverse ETL to operationalize their data. We've also featured marketing and sales team stories. 😍
It's no secret: Data teams are the heart and soul of modern, data-led businesses. They're responsible for powering the company's day-to-day operations with vital, fresh insights modeled for each specific use case their business teams need.
However, these key responsibilities come with some pain points for many data teams—whether you're a team of one or boasting a full roster of data engineers and analysts.
According to a recent survey from our friends over at Snowplow Analytics, 28.9% of data teams struggle to advocate for their impact within the org, communicate the true potential of the data they work with, and amplify their team's abilities to key stakeholders.
We've noticed that this gap in communication and understanding of the power and importance of data often occurs because of erosion in data quality and availability (and data trust, as a result). Without the right tools, it's difficult to impossible for data teams to provide business counterparts with all the data they need quickly or to demonstrate the real impact of good data on their goals.
Here's how three industry leaders—Canva, Clearbit, and Loom—solved this problem with reverse ETL.
Canva: The tale of unrealized tool potential
Canva offers a SaaS design product and uses a product-led growth strategy. When they started to try out reverse ETL, they were looking to move data from Snowflake to Braze, Salesforce, Facebook Ads, and Google Ads to fuel granular segmentation, email personalization, and ad retargeting.
Their most significant pain point was getting the correct, high-quality data they needed into Braze, a customer engagement platform. In addition, data analysts knew they needed more complex, ML-based segmentation models to support their company's use of Braze and a high data volume. As a result, they were effectively wasting money, not realizing the full potential of Braze as a tool, and their business teams were getting frustrated.
But despite their best efforts, the data team still had to spend weeks, sometimes months, building manual integrations to move data from A to B. Enter reverse ETL.
After integrating reverse ETL into their stack, engineers can now deploy more complex models into the product within minutes. They spend less time building and more time unlocking value.

The result? More data, more powerful segmentation, and better data usage from business teams to fuel more relevant messages to users. All with observability and alerting features that the data engineering team didn't have the bandwidth to build into their DIY alternatives before.
Business teams now understand how they can use data to be more effective and how the data team can partner in their campaigns. Data analysts work directly with growth teams to design models in SQL, leveraging the data warehouse as a source of operational truth for everyone.
Reverse ETL has fueled faster growth experimentation at Canva and empowered data analysts to better communicate and advocate for the importance of sophisticated, enriched data throughout the org (all while freeing the data engineering team from work they hate).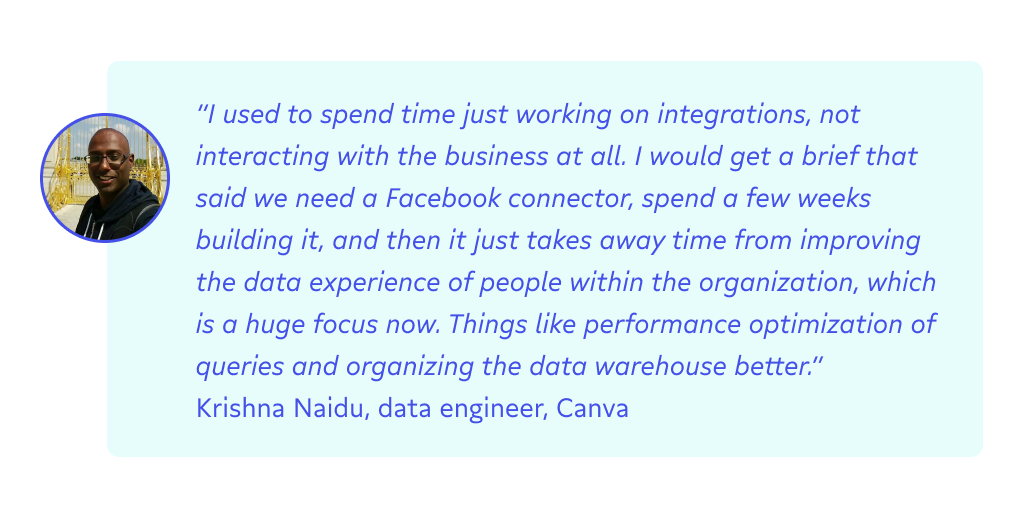 ✅ Less time doing tedious integration build work.
✅ Increased ability to advocate for the skill sets of the data team.
✅ Happier internal customers of the data.
✅ More effective marketing and sales campaigns, fueled by data.
✅ More time to do exciting, engaging data work.
Sounds pretty dreamy to us.
Want to learn more? Check out Canva's full customer story here.
Clearbit: A plot to give every team access to data
For the unfamiliar, Clearbit is a B2B SaaS tool that helps teams improve sales and marketing efforts by aggregating public data about a company's customers. They have a huge user base and a growth machine that isn't slowing down (which means lots and lots of data and customers to delight). When they came looking for reverse ETL, they wanted to sync data from Redshift to Salesforce and Customer.io to fuel lead attribution, 360-degree customer views, personalized emails, and granular segmentation.
Before reverse ETL, Clearbit had a familiar struggle: They didn't have a single source of data truth, which meant customer and product data was siloed in different tools.
They couldn't pull together a unified customer view and suffered from duplicate data across all 6+ of their products. There wasn't an easy way to piece together end-to-end customer journey data. Everyone relied on the eng and IT teams to manually import data into business tools via custom integrations. On top of that, the data team spent a lot of time cleaning all the data to build reports, but that wasn't reflected in sales and marketing tools.
When they realized reverse ETL could solve all these problems (and more), they knew it was time for a change. So they set up a sustainable architecture to ingest, store, model, and analyze their events data, making it possible to unify all their user schemas and data sources in Redshift using Segment and Stitch. From there, they built models to generate insights and customer attributes with dbt and synced models to Salesforce (all without engineering favors).
This gave the Clearbit data team the ability to serve up 360-degree customer views in Salesforce so account executives and account managers could act more effectively. Their data fueled hyper-personalized email campaigns based on product usage, acquisition channels, customer journey stage, and customer success. TL;DR: More teams were using more data than ever before, all thanks to the data team.
"With Census, our sales & marketing always have current data in their tools and the data team can enable growth experiments." - Julie Beynon, head of analytics, Clearbit
✅ More teams are taking strategic action with data than ever before.
✅ Fresher, more accurate data available for outreach campaigns.
✅ Data team is a key stakeholder at the company.
✅ Data team is in complete control of the data flow from ETL to the frontline tools.
Want to learn more? Check out Clearbit's full customer story here.
Loom: A story of customer segmentation and data team promotion
Loom is a video messaging software that lets users easily communicate with their team members, students, and collaborators asynchronously. They started exploring reverse ETL to sync data from Snowflake to Zendesk and Intercom to create 360-degree customer views, prioritize tickets (we'll talk more about this in our customer success section), and fuel granular segmentation.
Before reverse ETL, data at Loom was stuck. Buddy Marshburn, then data scientist(now data engineering manager) and the first data hire, was starting to scout out the company's data infrastructure. He realized he needed help moving data into the warehouse to get a clearer picture of customer data with Segment. It turns out that was easier said than done.
"I was looking for a tool that allows you to take data captured from our product and send it to third-party sources. With Segment, we couldn't send any information outside of pure event data, which was just limiting"- Buddy Marshburn, data engineering manager, Loom
In his experience, you generally needed several folks to build custom data pipelines quickly (and then to maintain them after the fact). Since it was just him, he knew he needed tooling to help ease some of the work ahead. He needed a partner. He needed reverse ETL.
After asking around in the dbt community, Buddy was pointed to Census. He quickly realized that it was basically Fivetran in reverse (precisely what he was looking for). With reverse ETL, he could take his transformed customer plan data and populate the corresponding field in Zendesk to help his customer success team prioritize the flood of tickets they got every day.

Reverse ETL not only made the impossible possible but helped Buddy do more with less. Instead of hiring new data team members, he was able to use Census to pick up some of the slack.
"My whole career as a data scientist and in data engineering roles has been about setting up foundational architecture components, so I very quickly realized the value prop Census offered. I feel that anyone looking to send data to any of the connectors Census provides will quickly see the value."- Buddy Marshburn, data engineering manager, Loom
With reverse ETL, Buddy was able to quickly organize all of Loom's data and centralize it in their warehouse to leverage all the work he was already doing in the transformation layer with dbt. This meant no more engineering favors or intense maintenance and monitoring overhead.
Instead, he can easily do all this with SQL and put data directly in the hands of his stakeholders, who now see the herculean power of the data team.
"I'm actually nervous to walk the sales team through how well Census and Salesforce play together, because I know that's going to be like turning on the fire hose." - Buddy Marshburn, data engineering manager, Loom
Oh yeah, and this killer reverse ETL saga has a very happy ending: It got Buddy pro-moted from data scientist to data engineering manager. ✨
✅ Made it possible for a one-man data team to create sophisticated, powerful data infra.
✅ Gave the customer success team the ability to quickly prioritize tickets.
✅ Showed everyone at the company the true power of data.
✅ Landed our data hero the promotion and recognition he deserved.
Want to learn more? Check out Loom's full customer story here.
What's next? Take control of your own data story with reverse ETL
We hope you've enjoyed learning about how great people can make a real difference to their entire organization's operations, vision, and customers with reverse ETL. It's not just that reverse ETL lets you do more with your data than ever before (that's pretty neat). Reverse ETL lets you operationalize your data, maximize your time, drive more business value, and focus on the work that lights you and your team up.
Thinking about checking out reverse ETL tools to see what you can achieve? We have just the thing for you: our Ultimate guide to evaluating reverse ETL vendors. Grab a copy, check it out, and share it with all the great people on your team