Product News
Announcing Live Syncs: Bringing Real-Time to the Data Warehouse
Dominic Crosby
October 16, 2023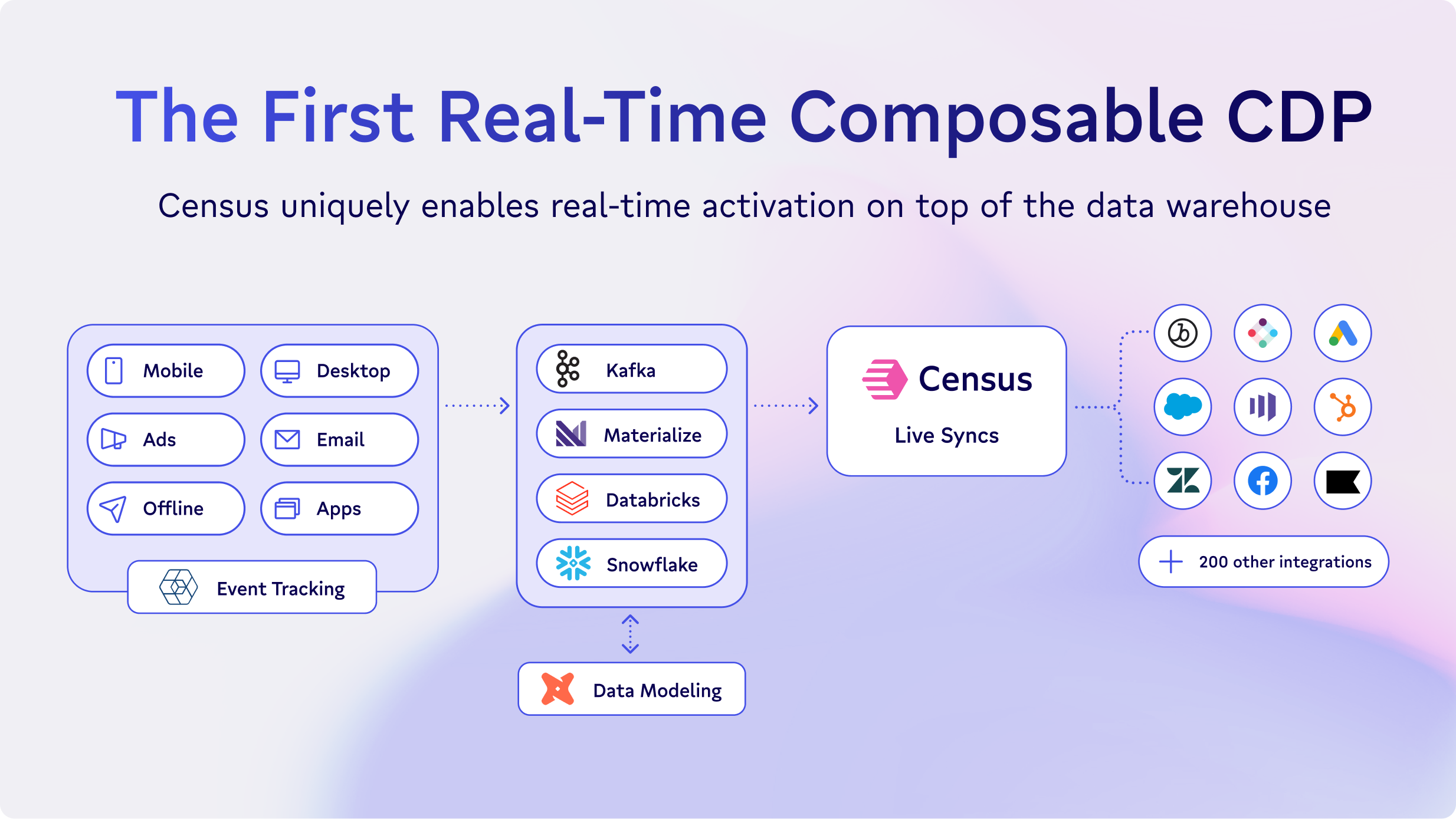 We're thrilled to announce the private preview launch of Live Syncs, making Census the first to enable real-time activation on top of the data warehouse.
Census connects directly to your behavioral event stream, merges high-speed event data with high-quality warehouse data in a Customer 360 profile, then triggers actions across any business tool within seconds.
Unlike traditional CDPs and activation platforms, with Census you can engage your customers in real-time by leveraging both streaming and warehouse data infrastructure you've already invested in. Census remains fully composable, and Live Syncs work with any event collection solution. No need to rip and replace.
A massive step forward for the Composable CDP
We strongly believe that the Composable Customer Data Platform (cCDP) is the future of data-driven marketing, providing complete Customer 360 views, more reliable data, better governance, and faster time-to-value by integrating natively with the cloud data warehouse.
Until now, the biggest limitation of the Composable CDP was the inability to perform real-time, event-based use cases because warehouses traditionally update on a schedule — not ideal for situations when an immediate action is required, like abandoned cart, purchase failed, or demo request submitted.
Today, with the release of Census Live Syncs, we're unleashing the full potential of the Composable CDP. Census is the crucial "last mile" of the warehouse-native CDP that makes customer data and audiences actionable in over 200+ destinations. Our new release enables real-time activation without compromising on the flexibility and power of warehouse-native marketing.
What's unique about Census Live Syncs?
1. Census Live Syncs trigger actions in any business tool in real-time (seconds)
Census provides one system that seamlessly activates data at any velocity, whether slow or fast. We merge high-quality warehouse data together with high-speed events in a complete Customer 360 profile, then trigger actions like emails, SMS, and notifications. All in seconds, not hours or days.
The cloud data warehouse contains all of an organization's cleaned, resolved, and trustworthy customer data. The problem is, the processes that create verified "good" data also make this data "slow." Marketing teams require high-quality data to launch campaigns and segment audiences, but this data isn't available immediately.
Behavioral events, or "fast" data like website browsing behavior (viewed product, abandoned cart) and form submissions (trial signup) are generated instantly, but can take hours to enter the warehouse. Marketing use cases that require activation in seconds or minutes were previously not possible in warehouse-native architecture, but Census Live Syncs unlock data activation at all speeds.
2. Census is fully composable with no vendor lock-in
Census runs on your existing data infrastructure and integrates seamlessly with other data and business tools, achieving maximum flexibility as a core tenet of the Composable CDP. In the same way, our Live Syncs enable real-time activation without locking you into any proprietary system.
Historically, there have been two common solutions to implement real-time marketing use cases:
Packaged Customer Data Platform – For decades, vendors like Twilio Segment, Amperity, and Tealium sold all-in-one data platforms. These platforms can perform high-speed activation of events, but often struggle to sync non-event data, and require wholesale adoption of their system including their data storage and event collection. They also have other limitations, including lack of support for B2B concepts like Accounts and difficulty joining data with your warehouse, which creates bigger problems when their insights are siloed away from the organization's central source of truth.
Custom-built Activation Workflows – The other approach is to have two separate activation systems for "fast" transactional use cases (e.g. Segment or custom event collection) and "slow" batch-based use cases (Census).
In contrast, Census prevents both vendor lock-in and unwieldy custom builds. You maintain zero-copy architecture with the central source of truth in the data warehouse, enabling you to mix and match best-of-breed tools to suit your business.
3. Census Live Syncs work with your existing event tracking infrastructure
Unlike other solutions, Census works wherever your source of event data is. The ability to "bring your own event tracking" makes Census easier and faster to implement than any other real-time activation platform.
CDP vendors like Twilio Segment, RudderStack, and mParticle require you to adopt their event tracking system in order to enable real-time activation. Setting up event collection is time-consuming, and there's no immediate value in re-instrumenting your entire infrastructure if it's only a stepping stone to real-time.
With Census, you have the flexibility to use any event tracking solution you choose, including but not limited to:
Customer Data Infrastructure solutions, such as Snowplow, Twilio Segment, mParticle, RudderStack, or Jitsu
Product Analytics services that integrate with the Modern Data Stack, such as Mixpanel
Custom tracking solutions built in-house
You can immediately amplify the value of existing data and martech investments by adding Census to enable real-time engagement that's centered around trusted customer data.
How do Census Live Syncs work?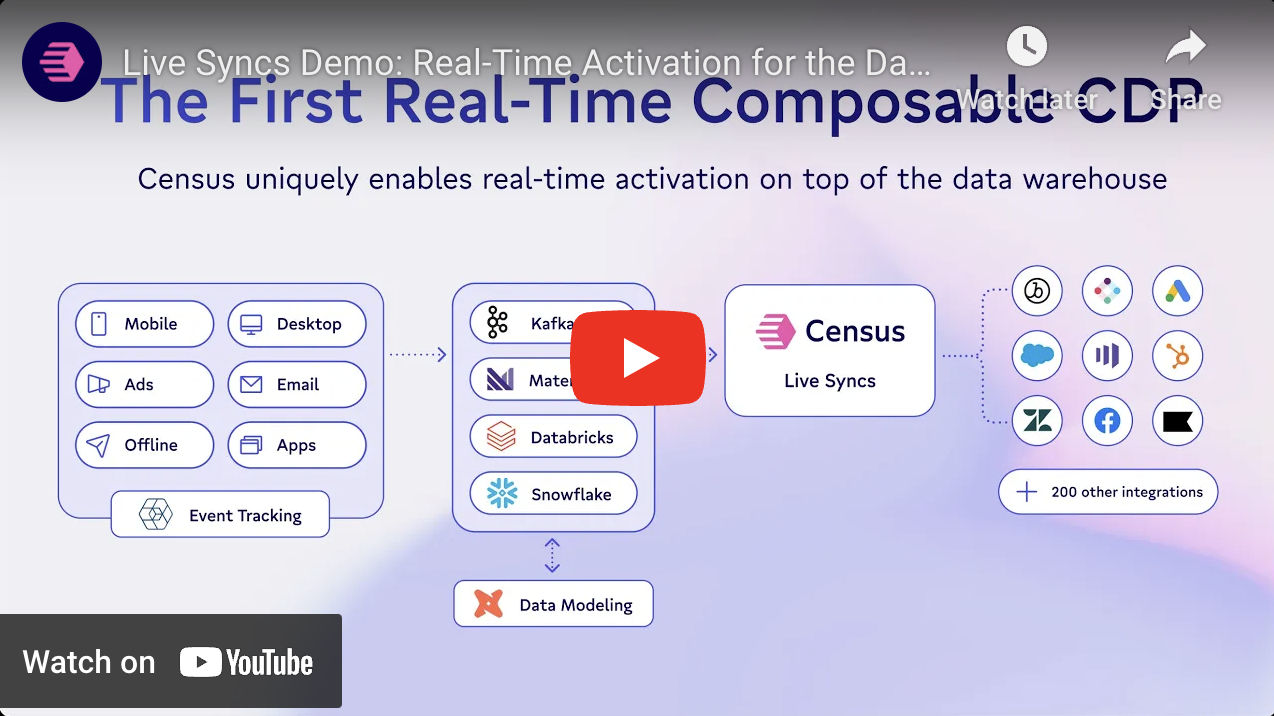 Instead of waiting for events to land in the warehouse, Census connects directly to your behavioral event stream wherever it exists. Streaming data sources include Kafka or data warehouses with streaming capabilities like Materialize, Databricks, and Snowflake.
Then, Census merges these events with existing warehouse data to build a complete 360° customer profile.
Census users can then leverage no-code Reverse ETL or Audience Hub to activate real-time customer journeys in 200+ marketing and business tools like Braze, Iterable, Marketo, Google Ads, and Facebook Ads.
In the demo video, we cover an example of an eCommerce Abandoned Cart Campaign to show how a brand can immediately recover lost customers and revenue by engaging them with a personalized offer in real-time.
An eCommerce customer is considering a shoe purchase but the price is too high. They remove the shoe from their cart, triggering an event called RemoveFromCart.
Meanwhile, in the data warehouse, the data science team has already prepared a Max Profit Offer model that determines the ideal discount to incentivize a customer to buy.
Within a few seconds of the event happening, Census joins the RemoveFromCart event with customer profile data in the warehouse. In this case, Census sends the fields "Shoe Offer" and "Customer Email" to Braze to trigger the Abandoned Cart campaign.
Braze sends the personalized shoe offer directly to the customer, catching them at exactly the right time during the buying process.
Use Cases
While most marketing use cases don't truly require sub-minute data activation, there are many use cases that can benefit from combining a real-time event trigger with customer profile data in the warehouse.
Real-time use cases include:
Cart abandonment — When an ecommerce customer has items in their cart and leaves the site or becomes inactive, brands like Nike can recover abandoned transactions by reminding them of their items and encouraging them to complete their purchase. Reaching out immediately through email, SMS, or ad retargeting (combined with customer information in the warehouse) can convert lost transactions at least 19% of the time.
Geofenced campaign — When a customer enters a geographic area, like a physical store, sporting arena, or airport, retailers like McDonald's can trigger targeted campaigns in minutes. For example, McDonald's may want to re-engage customers who haven't made a purchase in the last 60 days. They can send a 20% off coupon in the McDonald's app for customers within 5 miles of any store to incentivize them to return.
Proactive churn reduction — Customers who run into challenges with your brand are at high risk of churning, but you may be able to save them with timely outreach. For example, gaming companies like FanDuel can send a personalized message to console a player who just lost their largest bet ever, or SaaS companies like HubSpot can save an app user who's failed to log in 5 times by notifying a success manager to reach out.
Payment notification — Instant communication is even more crucial when payments and deposits are involved. Fintech platforms like Stripe need to notify customers immediately when a deposit fails. They can leverage warehouse data to tier outreach based on Customer LTV — for example, high value customers may receive a personal phone call to resolve the issue, and lower value customers may only receive an email notification.
Getting started
We firmly believe that composable and warehouse-native marketing is the future of customer engagement for every business. With rapid technological shifts in AI, privacy, and third-party tracking, traditional marketing and demand generation are no longer effective. Enterprises that fully leverage their first-party data for real-time personalization and engagement will outperform their competitors.
Leading enterprises such as Canva, Sonos, Orangetheory Fitness, ClickUp, and Notion already use Census to achieve marketing outcomes like reducing Customer Acquisition Costs by 50% and personalizing customer journeys for 125 million monthly users.
If you share our vision of the data warehouse as the center of the business, we'd be thrilled to show you a demo of Census Live Syncs to help you get started with the Real-Time Composable CDP.
Want to see how Census Live Syncs work in action? Sign up for a demo here. We look forward to hearing from you!